Luxman C 700u Control Amplifier
Exquisite sound, flagship pedigree. A dream come true.
—
The C-700u control amplifier is Luxman's new middle of the range model that inherits some of the magnificent innovations seen in their high end model, the C-900u, including the latest ODNF version 4.0 circuit, with significantly improved distortion characteristics and signal-to-noise performance and the new LECUA 1000, a computerized attenuator directly connected to the amplifier circuit, which enables smooth volume changes without any deterioration of sound quality. Luxman is pursuing the concept of a simple and high-quality control amplifier, exclusively designed for line level signals. What is more, this unit is also multifunctional, the loudness function interacting with the volume and tone controls, external pre-input connectivity and a fluorescent display with zoom and dimmer controls. Features like these make the C-700u suitable for the control center of your system, a new generation of control amplifier, displaying performance consistent with high-level functionality.
New LECUA 1000 and ODNF Version 4.0
Just like Luxman's top-of-the-range model, the C-900u, the C-700u features the new LECUA 1000 high-precision, electronically-controlled attenuator in an unbalanced configuration. An accurate volume adjustment mechanism is fundamental to the operation of a control amplifier. The LECUA* system is extremely resistant to external vibration and changes in sound quality over the volume control range, as well as being an extremely durable design. The LECUA circuit uses stepped fixed resistance and increasing the number of steps from 72 to 88 allows more delicate volume control adjustments from 0dB to 87dB with no deterioration of sound quality. This circuit also accurately handles any left and right balance adjustments. Luxman's latest negative feedback circuit, ODNF** version 4.0, achieves even higher performance by being quadruple paralleled in the first main amplifier stage, triple paralleled in the first error detection stage and featuring a Darlington connected second stage. Only the distorted components of the audio signal are fed back to the amplification circuit to optimize the negative feedback effect. Increased primary slew rate and ultra-wide bandwidth contribute to an extremely low level of distortion, especially in the high frequency range. An improved signal to noise ratio allows the full expression of delicate musical pieces where the amount of feedback should be minimal.
* LECUA stands for "LUXMAN Electrically Controlled Ultimate Attenuator".** ODNF stands for "Only Distortion Negative Feedback."
Large-Capacity Power Supply
In order to embody the philosophy of "Power Amplifier Driver", meaning a component which powerfully drives a power amplifier connected in the next stage, the C-700u has a large capacity power supply featuring an OI-type power transformer and is regulated by two 3,300μF blocking capacitors. This circuit creates a firm power base to support the sound quality of the C-700u.
Zoom Display Mode
The highly visible fluorescent display is equipped with a dimmer and has a four level zoom mode, adjusted via the remote control. The two part display usually displays the input source and volume level and is also eye-friendly and clearly visible from the listening position.
External Pre-Input Terminals and Balanced Phase Selection
The C-700u is equipped with unbalanced external pre-amp input terminals to which an external pre-amplifier in your AV system may be connected. The balanced inputs have the option of phase switching (pin no.3 HOT to pin no.2 HOT) which can be adjusteded and memorized for each balanced input. This is useful for connecting to units made by other manufacturers.
New 3D Layout in the Pre-Amp Section
The new LECUA 1000 system uses a 3D component layout to both minimize the signal route and improve it's efficiency. The ultimate solution for a high class control amplifier is realized by the direct connection between the attenuator circuit and the amplification circuit, eliminating the concept of independent, individual circuit blocks.
Chassis and Isolator Legs
A loopless chassis structure has been used for the enclosure to eliminate increased ground impedance and the effects generated by electrical or magnetic fields. Cast-iron isolator legs prevent resonance thanks to the characteristics of their metallic structure, the density gradient decreases from the center to the periphery of each leg. The legs also eliminate adverse effects caused by vibration and effects from the power transformer or the supporting surface.
Specially Selected Custom Parts
The C-700u features original custom made components, such as resistors, capacitors and even the unit's entire wiring, designed or selected as a result of LUXMAN's advanced experience and sensibility, accumulated over a long history of designing audio products. We consider sound quality as our first priority. The selected components have contributed to the realization of rich tone that LUXMAN has constantly pursued.
Comfortable Remote Control Operation
The slim aluminum remote control feels comfortable in the hand and allows users to operate a wide variety of the C-700u's functions, such as input selection, volume adjustment, display zoom and dimming, loudness and more from the listening position.
Input sensitivity/Input impedance
Unbalanced 250mV/46kΩ
Balanced 250mV/67kΩ
Output/Input impedance
Unbalanced rating 1V/90Ω, max. 11V
Balanced rating 1V/600Ω, max. 11.5V
Frequency response
20Hz to 20kHz (+0, -0.1dB)
5Hz to 120kHz (+0, -3.0dB)
Total harmonic distortion
Unbalanced 0.007% (20Hz to 20kHz)
Balanced 0.010% (20Hz to 20kHz)
S/N ratio (IHF-A)
Unbalanced 125dB
Balanced 122dB
Volume adjustment
New LECUA1000
Negative feedback circuit
ODNF 4.0
Max. tone control range
BASS: ±8dB at 100Hz
TREBLE: ±8dB at 10kHz
Remote control functions
・Operation・Dimmer・ Input selector
・Output mode・Balanced phase selection
・Record output・External pre-input
・Line straight・Loudness・Volume up/down
・Mute・Zoom
Power consumption
28W
2.0W (in standby mode)
External dimensions
440(W) x 130(H) x 430(D) mm
(including 17mm front panel knob and 14 mm rear panel speaker terminals)
Net weight
14.6 kg
Accessories
Remote control (RA-22)
Power cable
Luxman C-700u/M-700u review
This retro pre- and power-amp pairing is one to be taken seriously…
Tested at £11990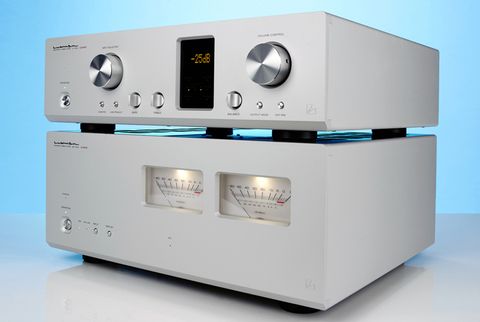 OUR VERDICT
A good preamp coupled to an excellent power makes this pairing one to take seriously. We love the retro approach to aesthetics and the excellent build
FOR
Understated but still engaging sound
Convincing tonality
Fine scale, authority and imaging
Exceptional build and finish
AGAINST
The preamp could be a little more expressive and insightful
Founded back in 1925 when radio broadcasting first started in Japan, Luxman is one of the oldest hi-fi brands around. Since then it has become best known for producing classy, but understated, source and amplification components.
The brand has never made a massive splash in the UK, but now under the watchful eye of the IAG Group (alongside Quad, Audiolab, Wharfedale and Mission among others) it is trying again.
The C-700u/M-700u pre/power combination is a fine example of the company's wares.
These are neat, low-key products that never shout out for attention – visually or sonically – but given time, their considerable charms are likely to win you over.
Build
Once we wrestle them out of their packaging, the build quality grabs our attention. That's not just because the pair weigh in at over 40kg, more that they feel immensely solid and engineered to last decades.
These products are pleasingly tactile. We love the crisp action of the C-700u preamp's input selector; the precise way it clanks into place is a joy. The volume control works beautifully too.
It has a smooth, well-damped motion and whoever wrote the software that translates this movement into the digital steps of the display did a great job. It all feels wholly natural and intuitive in use.
There are many other examples of Luxman's art, such as the lovely machining of the M-700u power amp's ventilated top panel or the pre's nicely shaped tone controls, but we're sure you get the idea – there's no shortage of attention to detail here.
These may be small things taken individually, but put them together and these products can stand tall against any rival.
We even like the way they look. The Luxman brand has never been about flashy aesthetics. Instead, it has a keep-it-simple approach to ergonomics that works well in everyday use.
Everything falls to hand and nothing feels overly fussy. There is the odd indulgence though; here it takes the form of rather lovely power meters on the M-700u.
We have a soft spot for such retro details, but they can be turned off if you don't.
Features
There's no shortage of connectivity. The C-700u preamp has five single-ended line level inputs alongside a pair of stereo balanced XLR alternatives. There's no built-in phono stage or digital inputs, but that's the norm at this level, as most owners will have dedicated boxes for these tasks.
The preamp isn't short of analogue outputs either; there are four sets, split evenly between single-ended and balanced options – ideal when a single stereo power amp will just not do.
The Luxman pre has relatively subtle tone controls, which can be of some use with poorly balanced recordings. Purists may want to bypass the tone circuitry – worth doing for the extra clarity it brings – and they can at the press of a button on the front.
There's also a rarity in the form of a 'loudness' control. This adds emphasis to both frequency extremes. It can spice up the presentation at low volumes, but we leave it off most of the time.
As is the case with most power amplifiers the M-700u is a simple affair. It mirrors the preamp in having single-ended and balanced XLR connectivity. Usefully, you can toggle between the two options at the press of a button.
Look around the back and you'll find a switch that converts it from a stereo unit to a monobloc – just in case you need more grunt and have a spare £6k for a second unit. There aren't many systems where that will be necessary though, as used in stereo the M-700u delivers 120W per channel into an 8ohm load.
This increases strongly to 210W per side as impedance halves. Difficult-to-drive speakers shouldn't be a problem with such reserves. Use it in mono form and the output is a stonking 420W into 8 ohms – quite enough for most circumstances.
Neither of these units is small, so you'll need a substantial support. Make sure that rack is rigid and low resonance. These are sensitive electronics that will reward such care with improvements in sound quality.
The power amp gives off a far bit of heat when pushed hard, so it's a good idea to position it in a place with decent airflow. The preamp also gets a little warm, so a bit of ventilation here would help too.
As a general rule it's good for reliability if components don't get unnecessarily hot.
Amplification of this standard requires a top class system to shine. It can only ever be as good as the source allows. We used our trusty Naim NDS/555PSstreamer supplemented by Clearaudio's Innovation Wood record playing package.
The C-700u doesn't have a built-in phono stage so Cyrus's rather good Phono Signature/PSX-R2 filled in superbly. Our long-serving ATC SCM50 speakers completed the system.
Sound
If ever there was a pre/power combination that shouldn't be judged on the first listen this is it. Straight from the box the sound is thick, soft and lacking clarity. Leave it running overnight and things improve markedly.
Once properly warmed, this pre/power combination delivers a tidy sound that matches the way they look. The edges of notes are precise, never overstated and delivered in a steady, controlled manner.
Sounds boring? Not a bit of it, as we discover when we play Macklemore and Lewis's Thrift Shop.
There's so much energy in this track and the Luxmans communicate it well. Their presentation is fast, agile and rendered with precision. Notes stop and start crisply, but never in a stilted way.
There's a lovely organic flow to the sound that puts us in mind of the best valve-powered gear, but here without a hint of excess warmth or richness.
Rhythmically things are pretty good too. While no dance machine, this pairing keeps a firm hold of the rhythmic elements of the track delivering that distinctive bassline with punch and authority.
It's always hard to combine low-end heft with proper articulation but this combination manages it.
This two-box is refined too, refusing to allow the recording's slightly hard edge to become an annoyance. It's a fine balance that retains plenty of bite but always stops short of harshness.
Macklemore's characterful vocal is clear and easy to follow. But here we notice a slight lack of expression, the Luxman's glossing over some of the dynamic nuances and subtle shifts in pace that go into making his delivery so distinctive.
We like the tonal balance. It's even and convincing, something brought home when we listen to Kind Of Blue by Miles Davis. This recording may be almost 60 years old but we're always impressed by the quality of the production from the immaculately captured instrumental textures to the impressive interplay between musicians.
These Luxmans convey the varying tension of the music well, keeping us interested from start to the final notes.
Switching to Stravinsky's The Rite Of Spring shows off this combo's impressive sense of scale and authority. The pair images well, creating an expansive, nicely layered soundstage that's populated with crisply focused instruments.
It's capable of huge dynamics too, and can deliver the piece's savage crescendos with enthusiasm. That generous power output makes itself felt at higher volumes where they can just pile on the volume while keeping their composure.
So, not flawless but we're pretty impressed, we're also curious to find out how the pre and the power sound with different partners. We draft in our reference Gamut D3i/D200i pre/power for comparison. It turns out that the C-700u is the weaker of the pairing.
Listen to the Gamut preamp with the Luxman power and there's more dynamic expression, particularly with low-level shifts. This makes vocals sound more emotional. Timing improves too, as does the overall level of resolution.
The Luxman preamp remains a composed and precise sounding unit, but by the highest standards of the price it lacks a bit of transparency.
The M-700u power amp is something of a star, though. It doesn't quite have the insight of the pricier Gamut D200i, but shows enough in the way of dynamics, timing and cohesion to really impress us.
It's got to be one of the best £6k power amps around. And let's not forget, it has power meters.
Verdict
Despite our criticisms of the preamp, this Luxman pairing is tempting. We love the way they look and build is absolutely top class.
More than that they (for the most part) just get out of the way of the music, and that's a quality that's far less common than it should be.
|
Luxman long had more cachet than many rival Japanese audio brands. It sits in a relatively underpopulated strata it shares with Accuphase, positioned above the mainstream of Yamaha, Pioneer, etc., but more widely known than esoterica made by the likes of Kondo or Robert Koda. Luxman has achieved this by dint of perseverance and consistently high build and sound quality. The company was founded in 1925, but didn't start building finished audio components until 1959 when it introduced the MA-7 valve amplifier. Before that, Luxman made components and kits for the radio age.
Luxman's evolution has been marked by changes in ownership that have not always been favourable: the brand was sold in 1984 to car-audio giant Alpine, which attempted to broaden Luxman's mass-market appeal with what might best be described as 'mixed' results. But six years ago, Luxman was acquired by International Audio Group, the Chinese owner of QUAD, Audiolab, Mission, et al. However, unlike other brands in the IAG group, Luxman products are designed and made in Japan, which is one reason why fit and finish is among the very best in the business; you will be hard pressed to find a European or American brand that can build to the same quality at the same price. Luxman has a wide range of products presently comprising 47 models, including SACD players, valve amplifiers, DACs, turntables, and more. It is a bigger range, in fact, than most high-end brands in our industry.
The C-700u is the penultimate preamp in a range of five, while the M-700u sits a bit further down the pecking order in a line-up of six power amps. Both are luxuriously executed components with the sort of controls that makes audiophiles go slightly weak at the knees. The C-700u naturally has the advantage in this regard, thanks to the two knobs and various switches it sports, not to mention a dimmable display that indicates status with what at first appear to be random orange dots. Look more closely (or turn up the backlighting), and you can see these dots actually relate to legends inscribed on the glass.
The C-700u is a line stage: a preamplifier without appendages such as a phono stage, headphone amp, or onboard DAC. This is a purist analogue component, albeit not one that's stripped to the bone; there are, for instance, that anathema of flat earth thinking… tone controls. You have the option to adjust bass and treble, which – if we are truly honest – is something that can be very useful with many recordings. It's easy to bypass these with the 'line straight' setting if you want to maintain your hairshirt image. Settings also exist for phase selection on the balanced inputs and 'loudness': another unfashionable feature that obviously still has its fans in some parts of the globe.
Inputs are plentiful and come capped with plastic covers. There are five RCA pairs and two XLRs, plus two of each flavour on the output side. AV processors can be accommodated with the 'external preamp' input and there are monitor and record terminals for the tape fraternity. Control is aided by a handset with a comprehensive array of small buttons; thankfully there aren't too many buttons, and the volume is easily located.
We welcome your trade-ins! Ask us about a trade-in allowance on the purchase of new equipment.

The M-700u power amp is a substantial if not quite back-breaking piece, but you do need to respect its 27.5 kilos on installation. It's rated at 120 Watts per channel into eight Ohms and nearly doubles this into four. Alternatively, the M-700u can be bridged to deliver 420 Watts in mono. Switches are provided on the rear for changing the phase of the XLR inputs and choosing stereo/mono operation. The speaker cable terminals are particularly chunky and only accept spade connectors. The side you see more often has an input selection switch and a display dimming option, although why you wouldn't want to see those glorious VU meters glowing escapes me. Under the lid, this is a Class AB amplifier with a three-stage Darlington bipolar transistor output stage and a 550VA, EI type power transformer. The M-700u bears a strong resemblance to its bigger brother, the M-900u, but the fully-balanced nature of the latter along with its ability to double output into a halving of load would suggest that it's family resemblence is only skin deep.

I set the Luxman pairing up with my resident PMC fact.8 speakers and got such good results, there didn't seem to be a need to change to anything else, after I took a closer look at the orange indicators on the C-700u! After spending half an hour thinking that there seemed rather more bass and treble than usual, I noticed that the preamplifier was running in 'loudness' mode, confirming that it always pays to watch the details when installing a new piece of equipment! After the bumpy start, things quickly got more revealing, even if the sound initially seemed rather hard edged. I was using the Naim NAC N-272 as a streamer because it's rather good. The Naim source doesn't sound harsh, but the Luxman pair is very, very quiet and unusually transparent, and this was highlighting something in the source or cabling that was grating. It turned out to be an Ethernet cable, the one that carries data from the server to the streamer, so quite a critical one it seems. Once that was sorted, the streamer let the amplifiers strut their stuff with gusto.

I say gusto, but Luxman is not that type of product: it's a calm and clean sounding pairing that gets out of the way in true high-end style. They give the impression of having all the time in the world, with a serene and confident presentation that serves the music with ease.

The timing of this duo could be stronger; my reference control amp brought out the swing in Hot Club of San Francisco's 'Hot Lips' [Yerba Buena Bounce, Reference Recordings, 24/176.4], while the C-700u made it sound more open and dropped the noise floor, but was less coherent overall. That said, the Luxman is a compelling preamplifier that pulls out nuances that many miss; the bass line on James Blood Ulmer's 'Crying' [Live at the Bayerischer Hof, In+Out Records] is clearly defined in the context of a substantial kick drum and the massive scale of the venue, as reflected in the vocal. It's a remarkable recording, and this combo lets you know as much without trying.

As a pair the Luxmans are positively sumptuous without being overblown, sweetened, or smoothed, and anything with tonal depth sounds more convincing than usual. That goes for voices, kick drums, trumpets… anything, and this, combined with the effortless delivery, makes for very articulate, full-flavoured vibes. The bass line on Herbie Hancock's 'Chameleon' [Head Hunters, Columbia] has a darkness and fullness that is reminiscent of liquorice; rounded and shiny doesn't really begin to cover it.

The Luxman pairing's ability to reveal detail is largely because the noise floor is so low: put on a multi-layered recording and you hear all the layers, all the effects, and the precise nature of the image. This occurred with many tracks, but was blatant with James Blake's 'Retrograde' [Overgrown, A&M]. What can often seem like a simple vocal performance turns out to be two clearly differentiated lines albeit by the same voice. The bass line is also rather more complex than many amps reveal; the presence of ambient maestro Brian Eno on production is abundantly clear.
The M-700u taken alone is a powerful and subtle beast. It's not quite as emotionally engaging as the best examples of the breed, but considerably more revealing than the majority. I particularly loved the combination of control and fine detail. There is no sense of the amp gripping the speaker, but the layers it uncovers in the mix show that distortion is being kept well at bay. It's not an iron fist, but its grip is smooth and firm.
Luxman remains a brand to be contended with; its sound is ultra refined, which mean that it can deliver a fully rendered, high-resolution sound that is tonally stronger than a great many solid state designs. This combined with world-class build and finish quality make the C-700u control amp and M-700u a very attractive proposition for anyone looking to discover what we mean by high-end. The price to performance and build ratio is impressive and should ensure that this venerable brand goes on to make its name with a new generation of music lovers.
Hear the Luxman C 700u Control Amplifier at Command Performance today!