PrimaLuna ProLogue Premium Preamplifier
If you want the award-winning, giant-killing, heart-pumping, music-making DiaLogue Premium Preamplifier, but can't afford $3199, there's no reason to feel sad.
Yes, the DiaLogue Premium gets all the reviews, but only because we can send a magazine only one model to review, so we send the most expensive one. This is what you need to know:
The ProLogue Premium preamp is almost an exact DNA match with its big brother. It would take a real expert to tell them apart; either from reading the schematics and build sheet or from the incredible performance.
We say this with calm assurance: The ProLogue Premium is built better and will sound better than $5000 offerings from any of the big name brands. If you don't believe us, call PrimaLuna at 909-931-0219 and tell us what other product you are considering. We will tell you exactly HOW it is better.
How can we do that? First of all, we don't overcharge our customers. Don't buy into the hype. Have you noticed that most companies making preamps for $3000-$5000 will tell you it's a "miniature version" or it's "inspired by" their $10-20K flagship model? Look inside, the designs are nothing alike. Listen to us when we tell you this: In the last 10-15 years manufacturers have decided to double their profit margins by putting fewer, less expensive parts in the box. Just a little bit cheaper made every year, so you don't notice it. The product will still sound good because making a preamp is easy, but is NOT worth what they want to charge you. We're calling them out on this. That 13-pound preamp they want to sell you for $4500 should cost no more than $1999.
There has not been a new design in tube preamps for decades. There have been improvements in some areas, but they are all built in the following ways: Preamps with one or two tubes are either hybrid (cheap to make) or use a lot of feedback. If they have four or more tubes, they use one of several designs, many of which have been around since the 1940's.
The top-tier, most expensive preamps selling for $10,000 or more will have tube rectification so they are "pure tube." Many of these "flagship" preamps will also be dual-mono, so they don't share parts between channels, yielding better separation. They will have point to point wiring instead of thin printed circuit boards to carry the signal (though even some flagship preamps still use circuit boards). Then, they will use a high-quality analogue potentiometer volume control instead of a $2.50 volume "chip".
PrimaLuna uses TWO 5AR4 rectifier tubes, one for each channel in a true dual-mono circuit that is all point-to-point wired using the highest quality parts including the awesome Alps Blue Velvet volume control. All things included in this incredible preamp weighing in at an amazing 37.5 pounds.
PrimaLuna buyers are typically well-seasoned tube-heads, and they know all this stuff. If you are new to tube preamps, you can help yourself by doing two simple things: Take the name and model of the product you are considering, and put it into Google. Then, get the weight and click on "Images" so you can see exactly what you are getting inside. Funny, we do that type of investigation in most everything we buy, but only in high-end audio do we get influenced by fairy dust.
We don't offer fairy dust. We offer world-class European engineering, the finest name-brand parts, and workmanship that's been declared over and over by experts to be untouchable.
Positive Feedback ISSUE 68
primaluna
ProLogue Premium Preamplifier and Stereo Amplifier
as reviewed by Robert H. Levi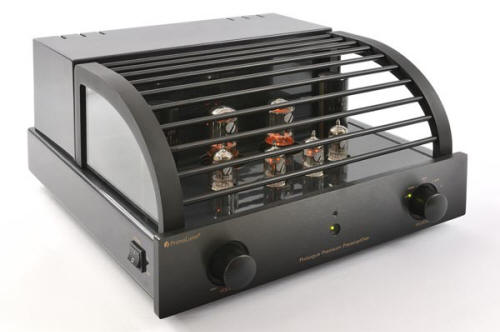 PrimaLuna, which means "first moon" in Italian, reveals through its latest offerings very high taste levels, extraordinary musicality, and intensely refined realism which surprised and amazed this reviewer. Without even an interconnect in my system priced at less than either ProLogue Premium piece, I truly had no idea that anyone could produce gear at this superb level of performance, plus elegant fit and finish, at these low price points. PrimaLuna has just given me quite an education!
The reference system for analyzing the Prologues includes as follows:
1. Sources are the EAR Acute 2 Tube CD Player and the ModWright Sony 999 CD/SACD/DVD Player with outboard power supply, all on Marigo Mystery Feet; restored Dynaco FM3 Tube Tuner and McIntosh MR-71 restored FM Tuner.
2. The ProLogue Preamp is connected to the sources with Kubala-Sosna Emotion Interconnects or Kimber Select 1036 Interconnects.
3. The Preamplifier is connected to the Amplifier by Kubala-Sosna Elation Interconnects and to the Marten Form Subwoofer, MSRP $4500, by Kimber 1036 Interconnects. The preamp is on Stein Music Super Naturals Wood Feet.
4. The ProLogue Stereo Amplifier is connected to the Marten Duke 2 Speakers by Kubala-Sosna Elation Speaker Cables and placed on Marigo Mystery Feet.
5. All components are powered by Kubala-Sosna Elation or Emotion Power Cords.
6. The Dukes were connected from the 4 ohm taps and are about an 89dB efficient two way design, MSRP $8500.
The preamp is run with its stock PrimaLuna branded tubes, which are of amazing quality and responsible in part for its outstanding performance. The stereo amp retains its PrimaLuna branded small signal tubes and is evaluated with the fantastic new KT120 Tung-sol Tetrodes replacing its very good PrimaLuna branded EL34s. I liked the EL34s, but went nuts over the 120s and refused to return to the lower powered tubes. I began critical listening almost immediately right out of the box as the gear was superb ice cold! Most critical evaluation was done after 50 hours, as recommended by Kevin Deal of Upscale Audio. The PrimaLuna ProLogue Premium Preamplifier and Stereo Amplifier offer a really cool looking light show in a darkened room, as the metal work is highly polished and smoothly finished.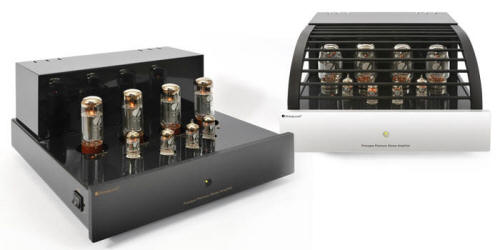 With the 120s, output was about 45 watts per channel, with useful output to 60 or maybe 70 watts in terms of musical reserve. I frankly could not identify when the ProLogue Premium Amp would clip, as its clipping characteristics were so very subtle and smooth. No wonder nearly every top amplifier designer in the world is designing around the hot new KT120. According to Kevin Deal, every PrimaLuna Amplifier ever built may use the robust 120, with zero modifications. This is terrific news for current PrimaLuna owners, and a strong positive endorsement for the amp's superior and advanced automatic biasing technique.
The Premium Preamp is also available with an internal MM phono Stage for only $199, and a new MM/MC stage coming soon. I did not have phono on board the test preamp. The Premium has four inputs for high level sources on RCA connectors, a home theater input, and two pairs of outputs on RCAs. Controls for all adjustments / sources are on a nicely machined remote.
A well-written manual informs and illustrates all functions. The dual mono designed preamp is transformer-coupled and tube-rectified. It has killer definition, low distortion, and dramatic drive as a result. Its MSRP is a diminutive $2195.
The Premium Stereo Amplifier has high quality output connectors with 4 and 8 ohm taps. I tried both and settled on the 4 ohm with the KT120 tubes on board and the 8 ohm with the EL34 tubes; so try both with your speakers. As this is a tube design, the power does not double into 4 ohms.
It has a power switch and a high bias switch for rolling tubes. Inputs are on RCA connectors. The amp has massive transformers and chokes in its dual mono design. It is one of the most robustly and elegantly designed tube power amps I have ever auditioned at any price. This gear is built for the very long haul and will not become obsolete; failure is unlikely. Its MSRP is a small $2195, with a tiny $100 surcharge for a quartet of KT120s to replace the provided EL34s.
The Sound of Music
I now began to roll out my top reference SACDs and CDs. I have never heard my highly resolved near field reference system sound more open and realistic. The sense of space, air, and depth was startling. The walls of the room disappeared. Images of vocal soloists, violins, guitars, whatever, became clear and palpable. Drums had power and focus. Organ music had authority and bloom. With the KT120s, I did not hear the more classic tube sound I had expected from some other PrimaLuna reviews. What I heard was benchmark solidity, musical neutrality, a touch of sweetness, and a magnificent you-are-there reality that I hear so often with state-of-the-art amplification in my big reference system, and other cost-no-object setups.
In addition to extraordinary imaging and depth, there is a lack of phase distortion and audio distortion of any kind. This enhances images, adds clarity to everything, and focus to solo vocals. Once you hear this effect, you have trouble living without it. I do not know whether the preamp, or amp, or both together bring this wonderful result. Both pieces are cut from the same cloth and share in the same musical taste and class. My thought is you need both to achieve this extraordinarily superb organic sound, though individually, they are a sure-fire recommendation. Either unit stands quite securely on its own.
Big or small, large orchestra or simple solo viola, the performance seemed quite authentic. Highs had a snap and bloom. Mids were focused and dramatic. The bass was deep and tight. You could feel the recorded venue surround you. There was no lumpiness or unevenness to the presentation. The layering of instruments in big jazz recordings was outstanding. The blue dot Columbia/Sony CD of Kind of Blue was alive and nuanced. Coltrane played with power and authority. He was seven feet away from me, and I could hear him breathe.
As I listened to my tube tuners, I was most aware of added depth to classical music broadcasts. This increased sense of space was accompanied by excellent definition and palpability. I heard a more organic presentation than usual in this system. I cannot say that it is 100% neutral, but it made tuner listening a delight. Live voices of the announcers seemed right on target, so I really think I am hearing more right than wrong, overall. Crispy CDs still were crispy, but right sounding CD/LP/live sources that were broadcast were mighty fine! My usual reference system, which costs double the PrimaLunas, is leaner overall, though no more detailed. I wish I had heard the PrimaLuna Premiums first; I would have bought them.
PrimaLuna branded tubes turned out to be one of the stars of the show. These made-in-China tubes, especially for PrimaLuna, are killer: detailed, harmonically right, and organic as can be. It has been a long while since I played with Chinese tubes. With supervision from PrimaLuna, these tubes are as good as anything I have heard from Russia, and on a par with many NOS types. They sound similar to a Type 3 Mullard, with Bugle Boy speed and snap. They are also quiet as a mouse and not microphonic at all. They are both inexpensive and plentiful. Try them next time you need small signal tubes or EL34s. Impressive!
ProLogue Premium Preamplifier
Specifications
Freq. Response: 4Hz-85kHz +/- 3dB
Gain: 12dB
THD: Less than 1% at full power
S/N Ratio: 109dB unweighted
Input Sensitivity: 200mV
Input Impedance: 100k Ohms
Output Impedance: 2800 Ohms
Power Consumption: 46 watts
Dimensions: 14.5″ x 8″ x 15.5″ (WxHxD)
Weight: 37.5lbs
Inputs: 4 pair RCA, 1 pair HT bypass
Outputs: 2 pair RCA
Tape Output: 1 pair RCA
Tube Compliment: 4 – 12AU7, 2 – 5AR4
ProLogue Premium Stereo Amplifier
Specifications
Output: 35 watts x 2 with EL34, 36 watts x 2 with KT88
Freq. Response: 20Hz-85kHz +/- 0.5dB
THD: Less than 1% at full power
S/N Ratio: 89dB
Input Sensitivity: 775mV
Power Consumption: 210 watts
Dimensions: 14.5″ x 8″ x 15.5″ (WxHxD)
Weight: 46.3lbs
Inputs: 1 pair RCA
Outputs: 4 and 8 Ohm speaker taps
Tube Compliment: 4 – 12AU7, 4 – EL34 (KT88 and KT120 tubes optional)
I have added the specifications as I think some of the reasons for the extraordinary musical purity and lack of distortion would be reflected here. Firstly, note the extended frequency response in both pieces with output to 85kHz. Also, the preamp has just 12dBs of gain; less gain means lower distortion as a result of not needing unnecessary output power. Note the low distortion present in both pieces as well. The amp comes to full power with only 3/4ths of a volt, very smart and conservative for this ultra linear design, and guaranteeing the need for less output from a preamp or directly wired source. Also, the signal-to-noise ratio of the preamp is outstanding, and very near state-of-the-art. These specifications reflect quite admirably what I heard in reality. Additionally, the amp and preamp run significantly cooler than I expected, much cooler than my references. This has to be a good thing sonically, with less energy going to heat and increased durability.
Also consider that here is great high value gear which will only improve as the owner may acquire better ancillaries and speakers over time. I utilized some of the best and most expensive gear to test the ProLogue Premium Preamplifier and Stereo Amplifier. I found pure joy and musical pleasure in the listening.
Quibbles
At $10,000 the pair, I might find something to criticize. At $4500 for both pieces, including KT120 tubes, nothing at all!
Conclusion
The PrimaLuna ProLogue Premium Preamplifier and Stereo Amplifier are absolutely brilliant, breakthrough designs with a level of musical realism only imagined at this price point even a few years ago. With the flexibility and performance of separates now at the price of a good integrated, the ProLogue Premium Preamplifier and Stereo Amplifier will take you close to the recorded event, satisfy the most jaded audiophile on a budget, and give you the flexibility to connect a larger system in the future. At half the cost of my speakers, and less than the cost of one meter of my top reference interconnect for both pieces, how can you go wrong?
Do not look at this fully featured, remote controlled, powerful gear as merely a terrific budget choice. If you love fine music in your home, the PrimaLuna ProLogue Premium Preamplifier and Stereo Amplifier are fantastic performers at even double and triple their price! If you can power your speakers with up to 60-70 watts per channel and you do not require balanced operation, then the choice is really easy. The PrimaLuna ProLogue Premium Preamplifier and Stereo Amplifier are most highly and personally recommended. Robert H. Levi
ProLogue Premium Preamplifier Specifications
Price
$2,199
Inputs
4 Pair RCA +
1 Pair HT bypass
Outputs
2 RCA Preamp Outs
1 Pair RCA Fixed Tape Out
Gain
12 dB
Freq. Response (+/- 3dB)
4Hz – 85kHz
THD
Less than 1% at full power
S/N Ratio
109 dB unweighted
Input Sensitivity
200mV
Input Impedance
100k Ohms
Output Impedance
2800 Ohms
Power Consumption
46 Watts
Standard Tube Compliment
4 – 12AU7
2 – 5AR4
Dimensions (WxHxD)
14.5″ x 8″ x 15.5″
Weight
37.5 lbs